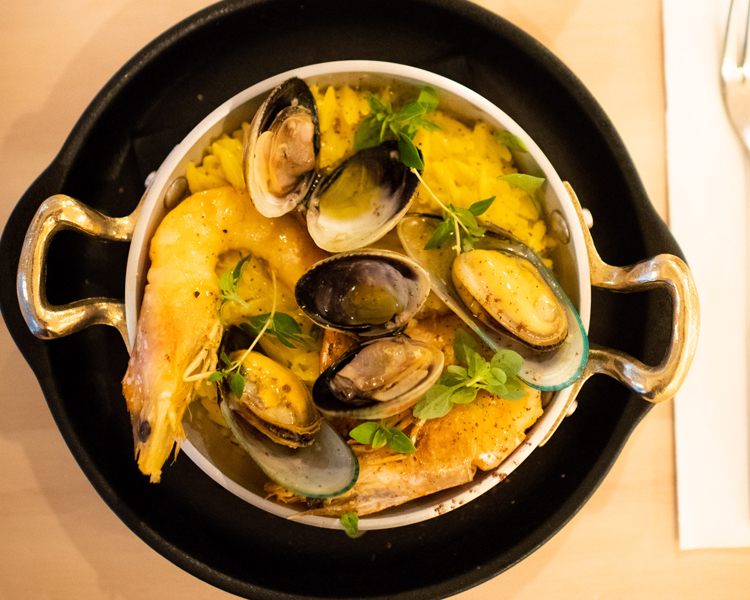 Oiko's Seafood Kritharoto with Saffron and Greek Basil

Try this Greek dish from Theo Papouis from Oiko's!
INGREDIENTS
380g orzo pasta
a good pinch of saffron
1 clove garlic, minced
2 anchovies
8 mussels
8 whole prawns, tails cleaned and deveined
8 clams, purged
100g mascarpone
olive oil
juice and zest of 1 lemon
pepper
Greek basil
thyme
sumac
INSTRUCTIONS
Put saffron into a large pot of boiling salted water and let simmer for 5 minutes. Water should be a nice deep yellow. Add orzo and boil for approximately 5-7 minutes.
During this time, heat a little oil in a pan big enough to fit the seafood. First, soften garlic and anchovies. Then sear prawns and remove before adding mussels and clams. Throw in a splash of pasta water to create steam, and cover. Once the mussels and clams are open, return prawns to the pan and cover again. Leave to rest off the heat. Let them sit while you deal with the orzo.
Strain the orzo, retaining 250ml of saffron cooking water. Put orzo back in the pot, return to the heat and add back in the cooking water, keep stirring and add
mascarpone. Add lemon juice and zest, pepper, and any liquid that has remained in the other pan from the seafood. Stir over low heat until you have a nice oozy klitharoto.
To serve, spread klitharoto out on a nice dish and top with all the seafood. Give it a nice lick of olive oil and scatter lemon zest, Greek basil, and thyme on top, along with a sprinkle of sumac.