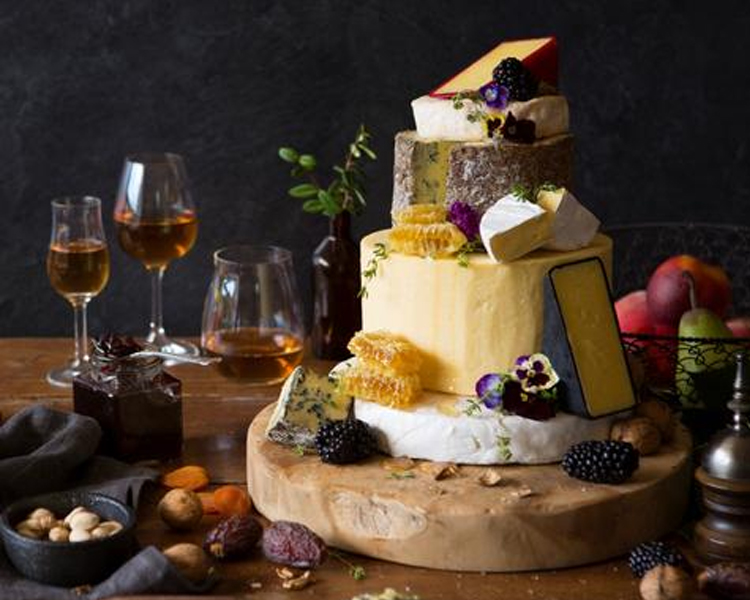 The celebration alternative - cakes made with rounds of cheese!

Wedding cakes made with whole cheese and sometimes called cheese towers, are suitable for use at birthdays, anniversaries or any other special event or party.
WHAT IS A CHEESE CELEBRATION CAKE?
It is not a cheesecake, rather it  consists of several cheese rounds arranged one on top of the  other in much the same way as the tiers of a traditional wedding cake. To make it look like a traditional cake, rounds of cheese with different diameters are used. The stacked rounds of cheese can then be decorated as you like. Fruits and berries are very popular decorations. Ribbons and flowers can also be used. It is simply a matter of deciding on the style of cake your event  requires.
WHY A CHEESE CELEBRATION CAKE?
A cheese cake is suitable for anyone who would prefer a savoury cake or who would like to have a cheese course included at a special dinner. Of course you can serve a traditional cheese board if you prefer, but celebration cheese cake is certainly a great centre piece that is also useful and practical.
HOW MUCH CHEESE?
A rule of thumb in creating a cake is to allow around 100 grams of cheese per person -  or 10kg of cheese for 100 people. With a little imagination you can easily create the cheese celebration cake yourself.
HOW TO ASSEMBLE A CHEESE CELEBRATION CAKE
The first and easiest way to assemble a cheese celebration cake is known as the American style. You simply find a number of cheese rounds of differing diameters and stack them one on top of the other - using the smaller rounds as you near the top. As you can see in our Fromagerie there is a wide range of cheese rounds available of differing sizes. Don't use too many different sizes -keep it as simple as you can.
The second style of cheese cake involves using stands and pillars much like a traditional fruit cake. You can use rustic bases cut from clean and polyurethane rounds of native timber.
WHAT IS THE BEST WAY TO DECORATE THE CAKE?
Foliage, dried fruit, flowers, berries  and fruit all seem to work well. In reality it depends on the style of the celebration. Find someone artistic to decorate it and you can organise it all yourself.
While we try to maintain good levels of wheels a minimum of 2-4 weeks is recommended for order.
At Moore Wilson Fresh we happily supply the cheese  and accompaniments but we do not supply finished decorated cakes.
To select your cheese rounds, ask to talk to our cheese specialists at Moore Wilson Fresh.