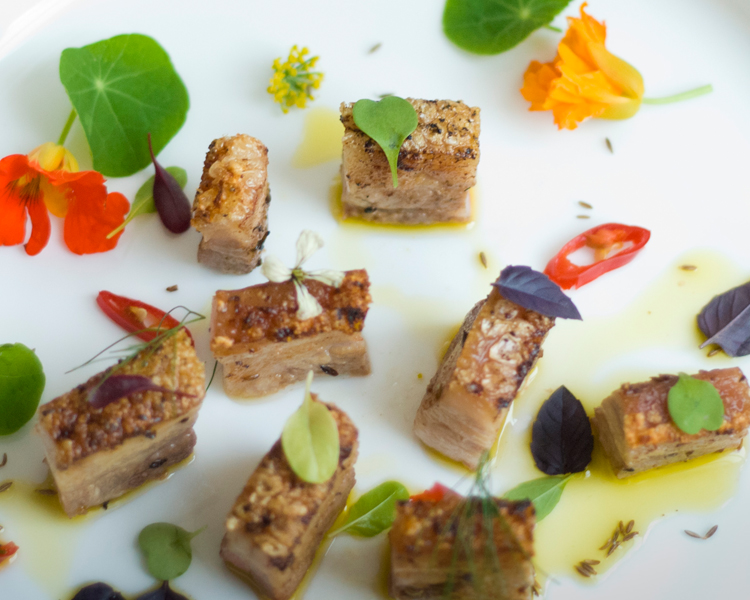 Olivo Fennel Infused Pork Belly

Enjoy with a savoury NZ Syrah
INGREDIENTS
1.5kg boned pork belly, skin scored in parallel lines (cut down to the flesh and about 1cm apart)
1 Tbsp Olivo Fennel Infused Olive Oil
3 cloves garlic, finely chopped
1 Tbsp fennel seeds
1 Tbsp flaky sea salt
INSTRUCTIONS
Preheat the oven to 180°C. Put the pork skin side up on a tray in the sink. Pour over boiling water. The skin will shrink away from the meat. This is a Chinese housewives' trick to ensure perfect crackling. Dry the pork well with paper
towels.
Brush the oil over the bottom of the roasting tin just big enough to hold the pork. Sprinkle the garlic and fennel seeds over the oil. Place the pork on top, skin side up and spread flat. Sprinkle with salt.
Place in the oven and roast for one hour, then increase the heat to 200°C and roast for a further 30 minutes until the crackling is crisp. Remove from the oven. Rest the pork, covered in a warm place.
Serve with potatoes and cabbage with gravy or rice and Asian greens.
TIPS
Enjoy with a savoury NZ Syrah.