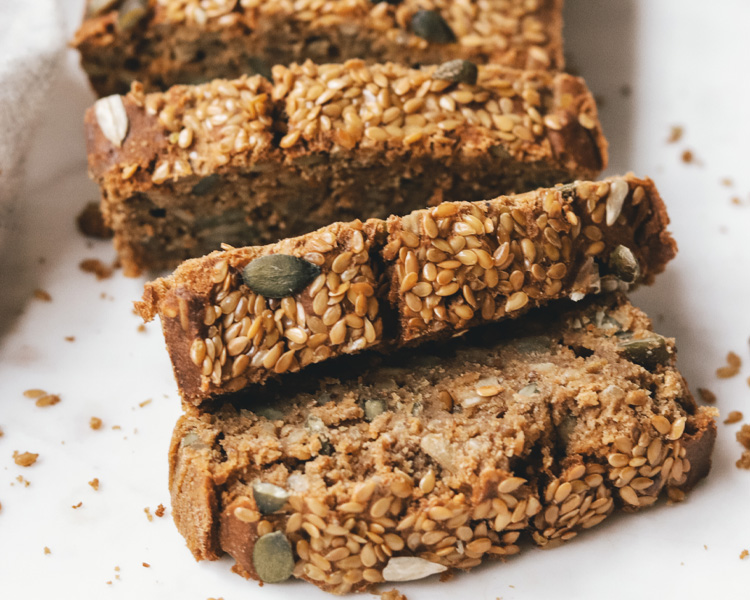 All Good Vegan Banana Breakfast Loaf

Recipe shared by All Good Organics
for Moore Wilson's 2022 Calendar
All Good Organics
Grey Lynn, Auckland
https://all-good.co.nz/
INGREDIENTS
3 ripe All Good bananas
½ cup All Good original oat milk
¼ cup coconut oil (melted)
1 tsp apple cider vinegar
1 tsp vanilla extract
2 tbsp maple syrup
2 flax eggs (2 tbsp ground flax seed + 5 tbsp water)
2 cups oat flour (add rolled oats to a food processor or blender & blend until it resembles a fine flour)
1/3 cup coconut sugar
2 tsp cinnamon
1 tsp baking power
½ tsp baking soda
pinch salt
½ cup pumpkin seeds
¼ cup whole flax seeds
½ cup sunflower seeds
INSTRUCTIONS
Preheat your oven to 170 °C.
Make the flax egg by mixing the ground flaxseed and water together in a small bowl then set aside to thicken.
In a large mixing bowl, mash the banana then add the oat milk, coconut oil, apple cider vinegar, vanilla and maple syrup. Stir until well combined.
In a separate bowl combine the flour, coconut sugar, cinnamon, baking powder, baking soda and salt and mix well.
Gradually add the dry ingredients to the wet ingredients whilst stirring. Then stir in the flax egg.
Now add in the pumpkin, sunflower and flax seeds, but reserve some for topping. Pour the batter into a greased loaf pan (8inch x 4inch) and spread evenly. Top with the remaining seeds then place in the oven.
Bake for about 50 minutes or until a skewer comes out clean from the middle of the loaf.
Remove from the oven, leave in pan for 15 minutes before removing to cool on a wire rack. Allow to cool completely before slicing.