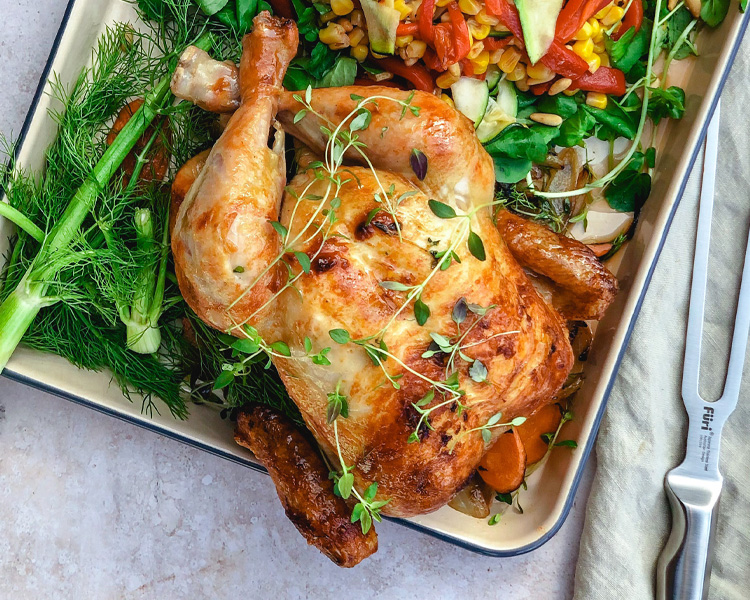 Bostock Brothers Roast Chicken and Salad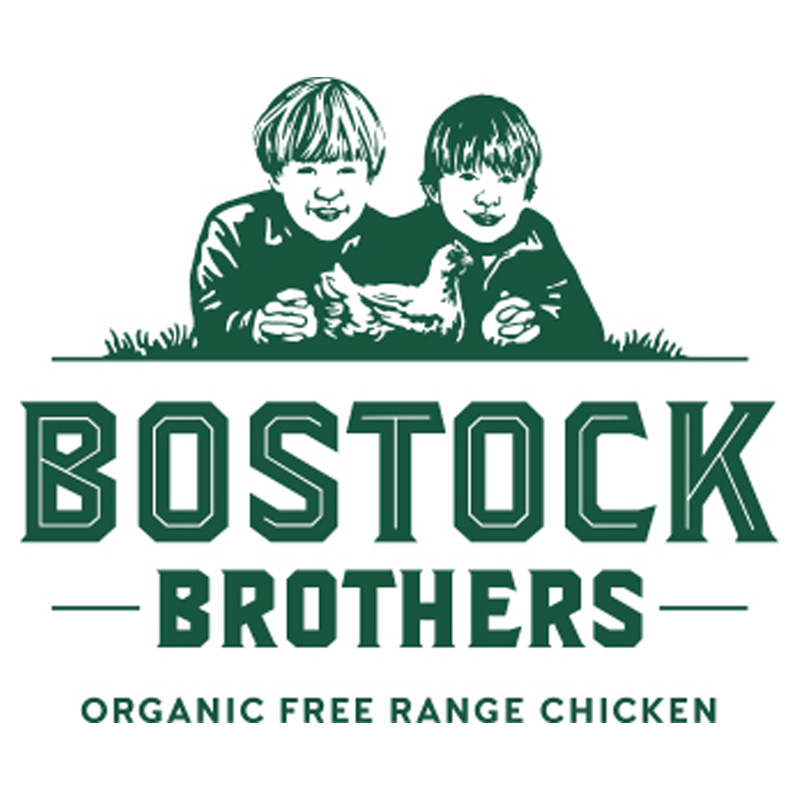 Recipe shared by Bostock Brothers
for Moore Wilson's 2022 Calendar
Bostock Brothers
Flaxmere, Hastings
https://bostocksorganic.co.nz/
INGREDIENTS
1 x 1.4 kg Bostock organic chicken
2 red capsicums
1 cob of sweetcorn in the husk
1 zucchini
70g pine nuts
50ml sherry vinegar
150 ml extra virgin olive oil
1 lemon
1 bunch thyme
2 cloves garlic
1 large carrot
1 large brown onion
50ml white wine vinegar
40g white sugar
INSTRUCTIONS
Preheat your oven to 200°C.
To prepare your chicken for roasting push the lemon, garlic and half the thyme inside the cavity of the chicken. Cross the legs over each other and tie them up with butcher's twine. Rub 75 mls of olive oil into the chicken and liberally season with sea salt and freshly ground pepper.
Roughly chop the carrot and onion and put them in the bottom of the roasting tray with the rest of the thyme. Place your chicken on top, put it in the oven and roast for 1 hour and 20 minutes. Baste the chicken halfway through roasting and if the pan is looking dry add some water.
Bake the sweetcorn in the husk at 200°C for 25 minutes until tender, cool and peel off the husk and cut off the cob. Roast the capsicums. Place in a bowl once cooked, cover with cling film so the skin will come away. Peel and cut into strips. Combine vinegar and sugar and heat to dissolve sugar. Shave the zucchini with a vegetable peeler, place in a bowl and pour over pickling liquid.
Toast pine nuts until golden.
Once your chicken is cooked place it on a board or large plate to rest for 15 minutes.
Place the roasting tray on the stove top, turn to medium and add a cup of water. Reduce by two thirds on the stove top. Add sherry vinegar and olive oil.
Portion your chicken and divide on to four plates, mix together the corn, red peppers and pickled zucchini and warm for 5 minutes in the oven. Divide this between the four plates and pour over the warm sauce.