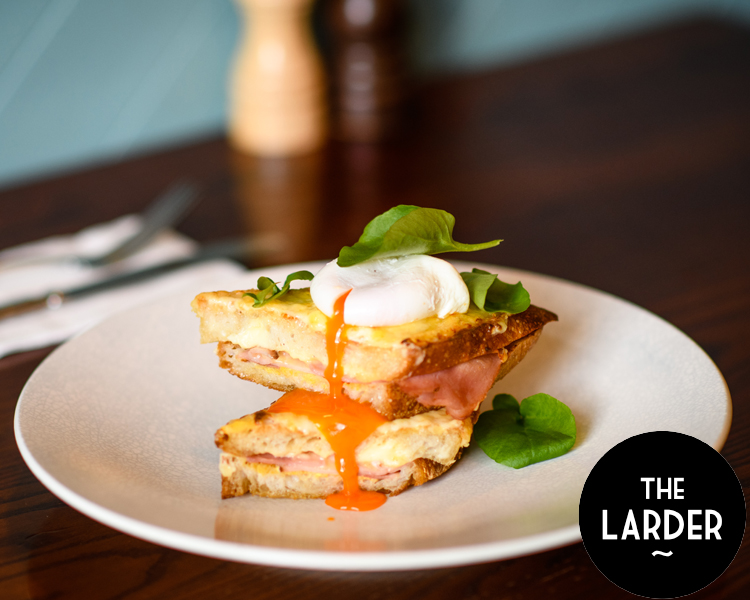 The Larder Croque Madame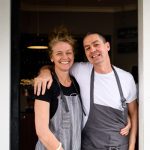 Recipe shared by Jacob Brown & Sarah Bullock
for Moore Wilson's 2021 Calendar
The Larder
Darlington Road, Miramar
www.thelarder.co.nz/
INGREDIENTS
180g unsalted butter
2 Tbsp flour
1 cup milk
1 bay leaf (dried)
½ tsp salt
¼ cup parmesan
8 slices thick sourdough
8 - 12 slices good quality free range ham
200g Gruyere cheese
4 tsp Dijon mustard
4 eggs
INSTRUCTIONS
Preheat the grill/broiler.
For the béchamel sauce melt 30g of butter in a small saucepan over a medium heat. Whisk in the flour and cook, stirring constantly, until you smell the flour and butter cooking, about 2-3 minutes. Do not allow it to brown. Add the milk and bay leaf and cook, stirring from time to time, until the mixture thickens, 10 -12 mins. Remove the bay leaf and stir in the parmesan and salt. Transfer to a bowl.
To assemble arrange 4 slices of the bread on a flat surface. Top each with 2 -3 slices of ham, spread with the Dijon mustard. Mix together half of the Gruyere cheese and bechamel sauce. Spread a little of the sauce on the top of the ham and top each with another slice of bread.
Heat a large cast iron skillet or heavy based frying pan and when hot add half of the remaining butter. Add 2 of the sandwiches and brown on one side for approximately 2 minutes. Turn the sandwich onto the other side and brown for 2 more minutes. Transfer to a baking sheet and repeat with the remaining butter and sandwiches. Spread the remaining bechamel on top of the sandwiches and top with the other half of the Gruyere cheese.
Place the sandwiches under a preheated grill and grill until the top becomes golden brown 2-3 minutes. Top each sandwich with a poached egg and serve immediately.
Serves 4