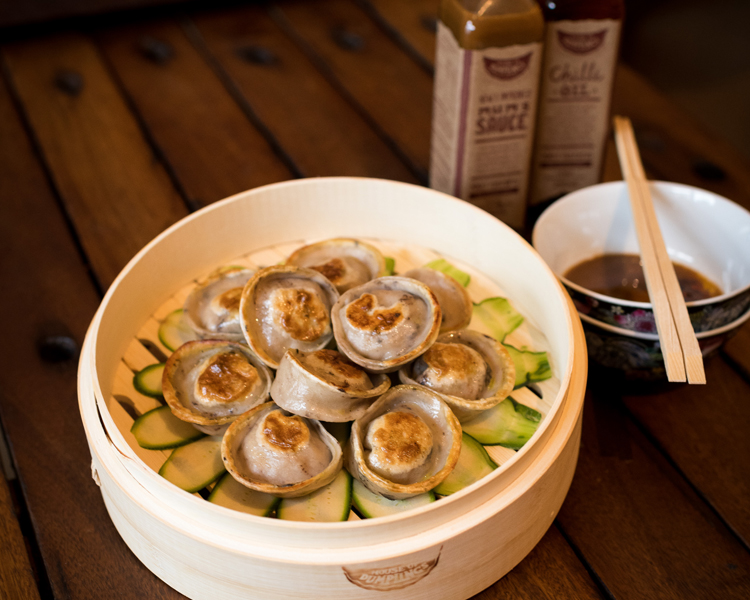 Red Gurnard Dumplings with Karengo and Shiitake Mushroom

In the Moore Wilson's Calendar this month you'll find Vicky from House of Dumplings' recipe for mouth watering handmade dumplings filled with red gurnard, karengo and shiitake mushrooms. They are delicious, easy to make and can either be steamed or fried.
The recipe makes 30 dumplings. 
INGREDIENTS
Karengo Pastry
2 Tbsp of Karengo Seaweed
¾ cup boiling water
2 cups plain flour, sifted
Fish Filling
50g shiitake mushroom, finely diced
1 zucchini, finely diced
250g Red Gurnard, or any firm fish, diced into 1cm cubes
1 spring onion, white part, roughly chopped
1 small knob ginger, finely grated
1 Tbsp Chinese cooking wine
1 Tbsp fish sauce
2 Tbsp cold pressed
INSTRUCTIONS
To make the pastry, place flour and seaweed into a mixing bowl. Make a well in the middle and pour boiling water into the flour. Stir with a fork until it is hard to move. Knead the dough for 5 minutes or until smooth. Glad-wrap the pastry nice and tight, let it rest on kitchen bench for 30 minutes.
While you are resting the pastry, make the filling by mixing all the ingredients together. Set aside in the fridge.
Once pastry has rested, cut the dough into four even portions. Flatten each portion with your palm, and dust flour on both sides of the pastry.
Italian pasta machine method: Use a pasta machine to roll out the pastry until the second to last setting.
Rolling pin method: Roll the pastry evenly until it is around 3mm thick.
Use a 10cm pastry cutter to cut out pastry rounds and create dumpling skins.
Place one Tbsp of filling into the middle of each dumpling skin. Brush a bit of tap water onto the edge of the dumpling skin and fold in half. Use your finger to tightly seal the edges. Bring two corners sideways towards each other and press together. Use the same method to make the rest of the dumplings.
To cook dumplings, oil spray trays of a bamboo steamer and steam for 5 minutes over hot boiling water.
Then fry dumplings (optional) in a medium-hot oiled pan until both sides of the pastry are caramelised. It should take less than a minute for each side.