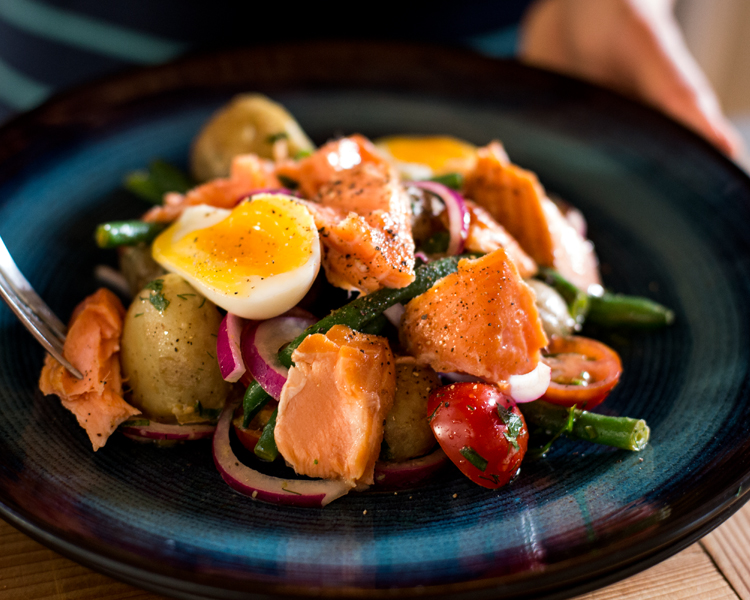 Regal Wood Roasted Salmon Niçoise Salad

Serves 4.
INGREDIENTS
800g waxy baby potatoes
300g green beans, trimmed
4 eggs
Dressing
2 tsps Dijon mustard
juice of 1 lemon
4 Tbsp extra virgin olive oil
3 Tbsp fresh dill
2 Tbsp chopped capers
¼ cup chopped flat-leaf parsley
To assemble
1 punnet cherry tomatoes, halved
½ cup kalamata olives
1 small red onion, thinly sliced
2 x 200g packets of Regal Wood-Roasted Salmon, flaked into bite-size pieces
INSTRUCTIONS
Cut any larger potatoes in half so they are all roughly the same size. Cook potatoes in boiling salted water until tender, 10-12 minutes.
Drop beans into boiling water with potatoes and cook for a further 2-3 minutes until just bright green and just cooked through.
Soft-boil eggs by placing in a small saucepan of water, bring to the boil and time for 3 minutes. Drain and run eggs under cold water to stop the cooking process. Once cool, peel off egg shells.
In a large bowl (big enough to hold the salad), whisk all dressing ingredients together and season with salt and pepper. Toss potatoes, beans, tomatoes, olives and red onion with the dressing.
To serve, divide salad between plates and top with flakes of smoked salmon. Cut soft-boiled eggs in half and place two halves on top of each salad. Grind plenty of black pepper over the top.
TIPS
Enjoy with NZ Pinot Gris or Italian Soave