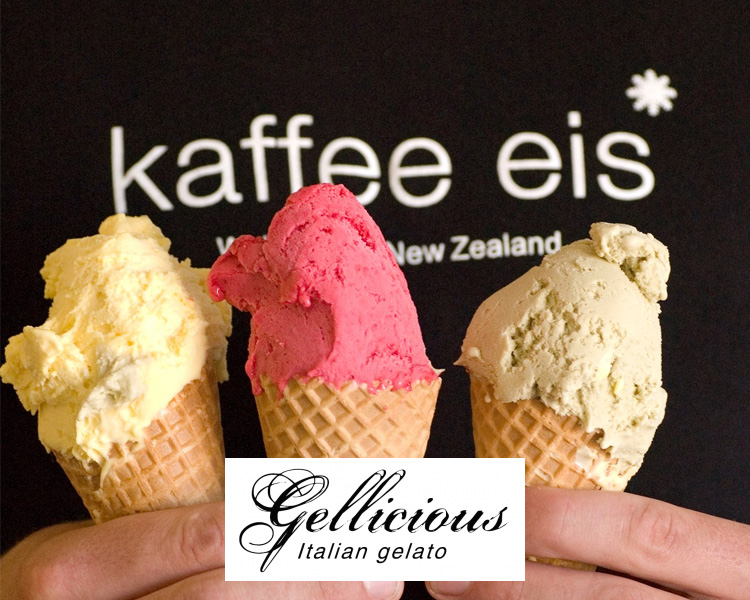 Supplier Profile: Gellicious Gelato

Gellicious Gelato
The team behind Kaffee Eis make their gelato under the brand Gellicious Gelato (which also wholesales to cafes and restaurants throughout the country).
They make more than 45 flavours, so each of their stores has an ever-changing variety to tempt your taste buds.
They use authentic recipes, that have been developed over the years using only quality ingredients.
Their fruit gelato (with the exception of banana) is all sorbetto – water-based, not milk-based. They are dairy free, vegan, gluten free and contain up to 38% real fruit – hence are 99% fat free.
Their milk based gelato is just that – milk based, in contrast to ice cream which is cream based. This means that Kaffee Eis gelato is lower in fat than traditional ice cream and has a fuller more satisfying flavour.
Kaffee Eis Story:
Established in 2004 Kaffee Eis is the home of Gellicious Gelato their award winning gelato brand.
Their Oriental Bay store opened for the first time in December 2004. The initial plan had been for a coffee shop that "sold a little bit of ice cream" because of its beachside location. This changed when, while holidaying in Noosa, owner Karl was reminded how much he enjoyed gelato and lamented the fact that no one was doing it well in Wellington. From there Italian contacts were made, machinery sourced and Kaffee Eis was born.
The name was chosen to reflect Karl's Austrian heritage – Kaffee Eis (pronounced - café ice), which means coffee and ice cream in German. Kaffee Eis quickly grew a reputation for both high quality gelato (which was all initially manufactured on site) and great coffee.
It wasn't long before a production kitchen was set up. This was followed soon after by a second store on the lagoon in Frank Kitts Park (Jan 2005), and two years later a third in Courtenay Place (March 2007) followed by Cuba Street (November 2013) and The Kiosk TSB Arena (June 2017).
Whilst Kaffee Eis, along with its manufacturing and distribution arm Gellicious Gelato, is now one of the biggest manufacturers of gelato in New Zealand, they remain 100% locally owned and operated.