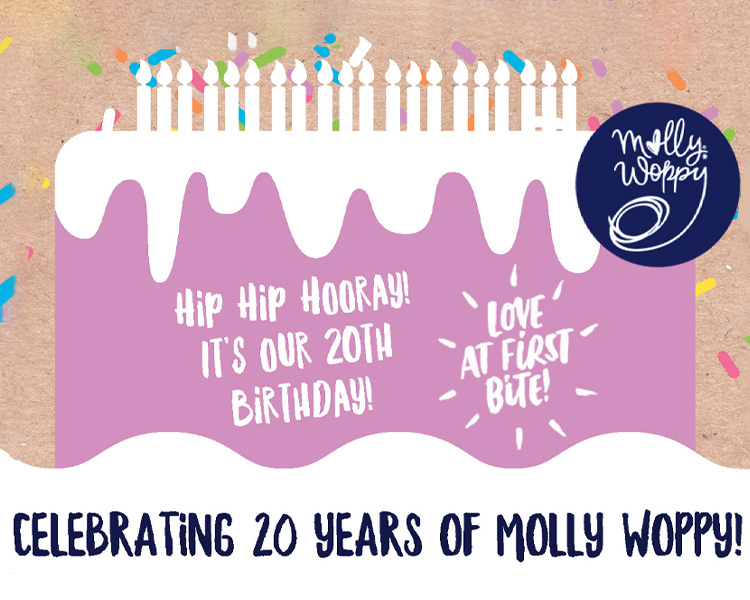 Molly Woppy began 20 years ago in the home kitchen of Alistair Parker and Hayley Molloy. Alistair was a chef in a top Auckland restaurant when customers started asking where they could purchase his fabulous biscotti that they'd all fallen in love with. That's when they baked up a plan and Molly Woppy began. Juggling a baby, toddler, and full-time chef job, they made their biscotti at home and sold it into cafes.
Today they uphold the same quality and principles as when they first began. From their humble beginnings (think commercial oven in the home kitchen), Molly Woppy has grown into a loved and trusted kiwi brand. From melt-in-your-mouth shortbread to their iconic gingerbread, they are known for simple classic recipes like you would weigh, mix and scoop at home. Molly Woppy has always been an inclusive brand, recognising the need to cater to those often left out of the biscuit market. It has offered a much-loved gluten-free range since 2005. The recently released, award-winning, positively plant-based cookies were released in 2021 to rave reviews.
They are passionate about baking hand-crafted goods using ethical and locally sourced ingredients - NZ butter, free range eggs and real chocolate, but their most genuine and core ingredient is that they are 100% made with love. Their cookies are jammed-packed full of premium ingredients so that you fall in Love at First Bite® with them. They want every mouthful to be just as scrumptious as the next.
One of their core values is to be as sustainable as possible without compromising on quality. Supporting local and sharing the love is what Molly Woppy is all about. Their premium range of award-winning cookies has delighted Kiwis for the last 20 years, and they are excited about what's next … of course, we know it will be 100% drool-worthy – watch this space!