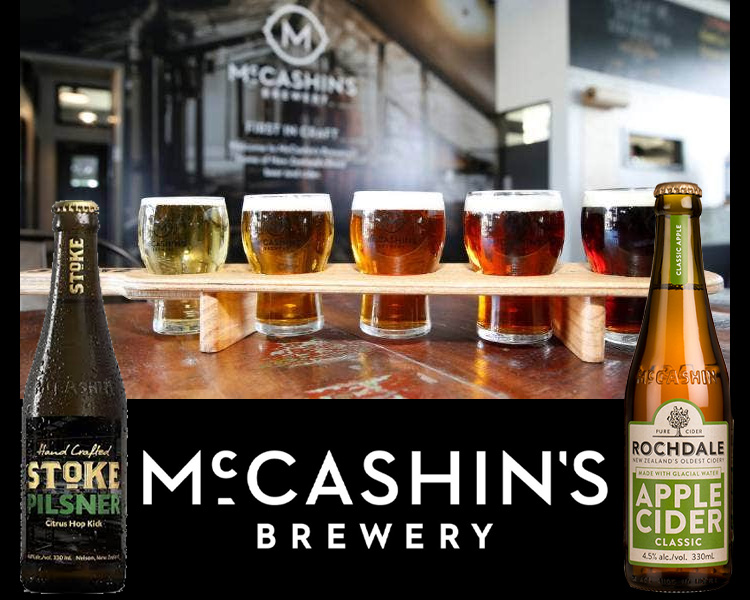 McCashin's Brewery, previously known as Mac's Brewery, is a brewery based in Nelson, New Zealand. It was founded in 1980 by Terry McCashin, who produced the well-known Mac's beer. Today McCashin's owns Rochdale Cider and Stoke Beer.
The original McCashin's Brewery officially opened in 1981. Terry hoped that his influence would keep the big breweries from attacking his venture. It has been said that the success of the McCashins was based as much on determination as it was on brewing good beer.
The Brewery began producing the first unsweetened beer brewed in New Zealand for quite some time, as well as other types which had never been seen here. The McCashins' success inspired a new generation of brewers to set up micro-breweries to meet the growing demand for a greater variety of beer.
Terry sold the Mac's beer brand to Lion Nathan in 1999.  Lion leased the Nelson brewery for ten years before shifting the remaining production to Auckland, Wellington and Christchurch. Dean, Terry's oldest son and his wife Emma moved to Nelson in April 2009 and re-opened the Brewery, then launched Stoke Beer in 2010.  The name Stoke pays homage to the location of original McCashin's Brewery, 660 Main Road, Stoke, Nelson.
The Rochdale Cider factory in Stoke was started in the late 1930's. Stoke was the perfect location for a cidery because it was surrounded by apple orchards. In 1951 a cider factory and offices were added and apples were juiced and fermented on-site.
The popularity of cider began to decline as that of wine was increasing quickly. By the late 1970s Rochdale Cider was the only remaining cidery still operating in New Zealand (there had once been four in Stoke alone). By 1980 it had closed. It was bought by Terry and Bev McCashin that same year, who re-opened it and continued to make Rochdale Cider. McCashin's Brewery was opened on the same site in 1981.
We have an extensive range of Stoke beers and Rochdale ciders in store and online.