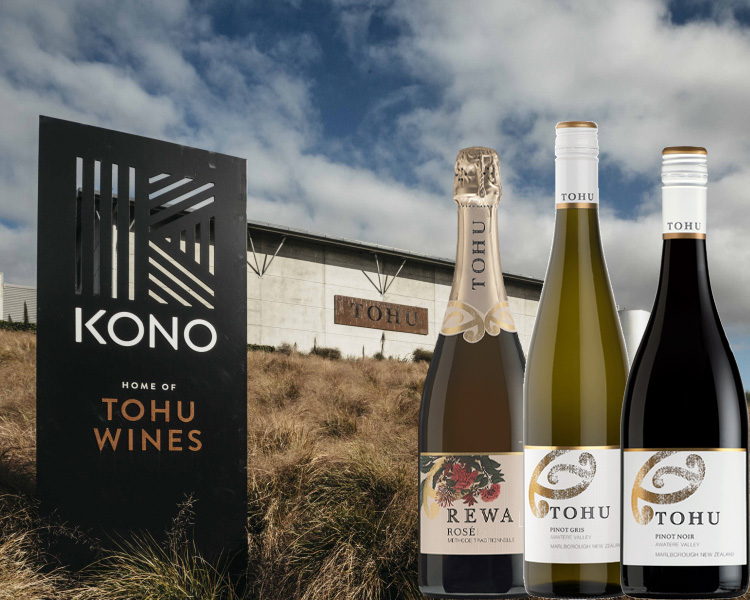 Supplier Profile: Tohu Wines

TOHU WINES: The World's First Maori Owned Winery
In 1998, the world's first Maori-owned wine business was established as Tohu Wines. Today Tohu Wines operates as an independent company under the umbrella of Kono, the food and beverage arm of Wakatu Incorporation.
The first vineyard was planted in 2002 in the Awatere Valley, Marlborough and in 2005, another in the Moutere region outside Nelson. Tohu established their own winery in the Awatere Valley in 2012.
As a family owned business, it is important to Tohu to uphold the legacy of its owners and their ancestors in its practice. The ancestors of the Tohu whanau were farmers, fishermen, planters, and providores. They were astute, creative and entrepreneurial. Tohu Wines make sure to enhance the resources and whenua passed down through generations.
Today, Tohu create internationally recognised award-winning wines, all while remaining true to their deeply held values which include hihiritanga, kaitiakitanga and manaakitanga – doing things better, guardianship, and caring.
The winemaking philosophy is to create wines that capture the flavours of each region's unique landscapes, whilst upholding respect and protection of the land for future generations.
The vineyards are certified under Sustainable Winegrowing New Zealand, and this as an integral part of the values under-pinning the whole operation - working with the environment without compromising quality and integrity.
Tohu's values of excellence, kindness, and innovation are clearly reflected in their  wines. Whether it's a family lunch, wedding or even a Matariki celebration, Tohu produces wines perfect for any occasion. Moore Wilson's has been selling Tohu wines since 2014. The current Tohu wines stocked at Moore Wilson's include: Sauvignon Blanc, Chardonnay, Merlot, Pinot Gris, Pinot Noir and Rewa Rosé Methode Traditionelle.