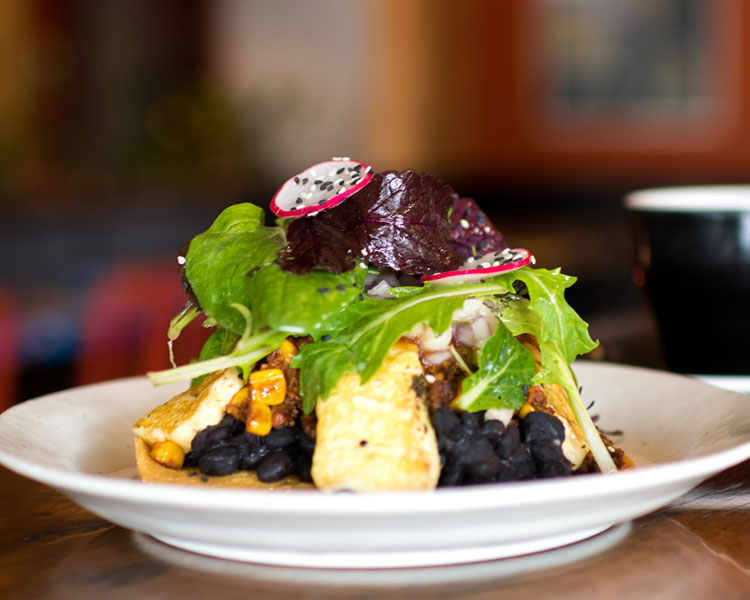 Tostadas De Haloumi

It's a new year and its time to turn over to the first recipe in Moore Wilson's 2019 Calendar: Lucas Putnam from La Boca Loca's Crispy Tortillas with Grilled Haloumi or 'Tostadas De Haloumi'.
INGREDIENTS
2 cups cooked black beans
1½ cups colache (recipe follows)
8 small to medium corn tortillas, homemade or store-bought
vegetable oil for the pan
200g haloumi cheese
1 cup pico de gallo salsa**
Corn and Courgette Colache* (Makes 1L)
vegetable oil for the pan
1 brown onion, halved and sliced
2 garlic cloves, finely diced
3 courgettes, chopped into small cubes
1 roasted poblano chilli, sliced
½ cup sweetcorn kernels
½ teaspoon dried Mexican oregano
salt and freshly ground black pepper
INSTRUCTIONS
To make the colache, heat oil in a small pot.
Add onion and garlic and cook until soft. Add courgette, chilli, sweetcorn and
oregano; cook for about 10 minutes on low heat. Season with salt and pepper.
In pot, reheat the black beans. Mash beans lightly with a fork to break up some but not all of the beans. This thickens the sauce and helps keep it from running off the tostadas.
In a shallow fry pan over medium-high heat, preheat the oil until it shimmers.
Fry tortillas in oil until they turn golden. Tortillas may puff up as they fry; press down using a spatula or fish slice to keep flat. When golden brown, remove tortillas and drain on paper towels.
Slice haloumi then sear in a hot fry pan until golden on each side.
To serve, place two crispy tortillas on each plate. Top with ½ cup black beans, then about ⅓ cup colache, 4 slices haloumi, and 1 heaped tablespoon pico de gallo salsa. Serve immediately.
TIPS
*This versatile recipe can make fillings for tacos or burritos, or a side dish. If not using immediately, reheat in a separate pot at the same time you heat the black beans.
**Pico de gallo Salsa
Dice 1 medium sized tomato (seeds removed), dice 1/2 red onion (soak this in cold water for a few mins to remove the sting), chop up some coriander, mix together, squeeze some lime over it and salt to taste. If you like a bit of heat, use 1 serrano chile and remove the seeds, stem and veins.