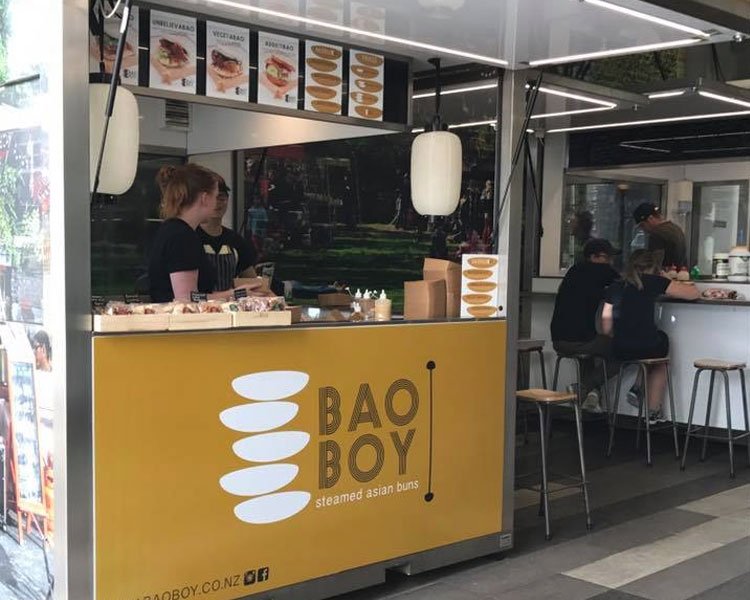 Joining the Chook Wagon and Miki Sushi, Pop-up Food Pods are the latest addition to our takeaway food offering! 
Located in the Piazza at Moore Wilson's College Street, Food Pods provide a chance for local artisans to 'pop-up' for a limited time and share their take on street food direct to the Wellington public. Here's what's on right now:
Pod 1: Carrello del Gelato
A 2003 trip to Italy ignited a love of gelato for former restaurateur and committed foodie, Nathan Meyer. It was love at first bite. Creamier and more intensely flavoured than the ice cream he was used to back home, the gelato also had less fat and sugar in it, and - because it was churned more slowly - less air. Nathan loved everything about it, from the taste and texture to the colour and presentation. He immediately began making plans to bring gelato back with him to New Zealand.
Upon returning to Wellington, Nathan based himself in Newtown and went about gathering the best local and Italian ingredients for churning handmade batches of gelato.
These days you'll find Carrello de Gelato available by the tub in a number of retail outlets (including Moore Wilson's Fresh!) as well as at their Oriental Parade store which also serves authentic pizzas alongside a mouth-watering array of gelato.
POP-UP MENU
Pizza (GF base available)
Margherita Slice $4.20 / Whole $16
Tomato, mozzarella, basil
Mushroom and Spinach Slice $4.90 / Whole $19
Tomato, mozzarella, mushroom, spinach
Pepperoni Slice $4.90 / Whole $19
Tomato, mozzarella, pepperoni
Sundaes
Caramel Pop $10.50
A wafer basket filled with salted caramel gelato, topped with caramel sauce and caramel popcorn. (NF)
Bounty $12.00
A scoop of chocolate sorbetto, coconut cream gelato, a swirl of chocolate sauce topped with desiccated coconut and a dark chocolate shard.(GF, NF, DF, Vegan)
Gelato Burger $13-50
Chocolate gelato pattie, white chocolate cheese, passionfruit mustard, raspberry ketchup in a donut bun.
POP-UP HOURS
Monday to Sunday 11.00am - 3.00pm
Here until Sunday 28th May 2017. Menu and hours subject to availability.
Pod 2

: Bao Boy

Bao Boy is the latest venture of the talented Dragonfly team, adding new twists and flavours to the everyday bao. The inspiration for Bao Boy comes from the success of Dragonfly's sister business, Asian Food Republic's, bao promotion at the Food Pods in 2016 and at Wellington's Beervana event.
Come along and experience an exciting array of bao buns filled with the classics such as pork and chicken to new flavours with the introduction of a tofu and shiitake mushroom, and even a dessert styled deep fried bun!
POP-UP MENU
One Bao - $8
Any Two Bao - $15
Any Three Bao - $20
Incredibao crackling free range pork with oyster sauce, black mustard seed pickles and coriander
Unbelievabao spiced free range chicken, BBQ sauce, red pickle onion, iceberg, salt and pepper
Vegetabao crispy tofu, Asian slaw, pickled shiitake, white miso mayo and shredded nori
Addictabao deep fried milk bun, roasted pineapple, spiced honey, pandan custard, gingernut and cinnamon crumbs
POP-UP HOURS
Monday to Sunday 11.00am – 4.00pm
Here until Sunday 28th May 2017. Menu and hours subject to availability.