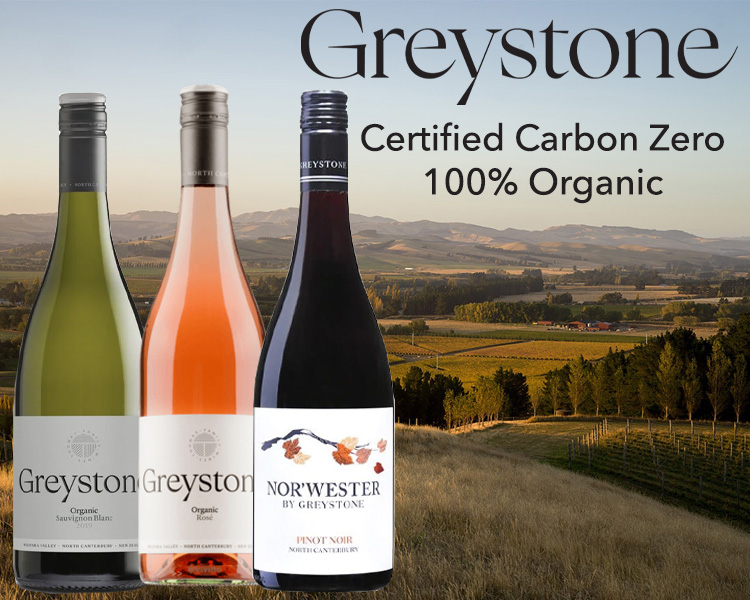 Supplier Profile: Greystone Wines

GREYSTONE WINES: New Zealand's first winery to be certified carbon zero!
From Waipara, North Canterbury, Greystone is the first winery in New Zealand to be certified net carbon zero. Also certified organic with BioGro and practising regenerative viticulture, but above all Greystone are known for producing a broad range of handcrafted, exceptional and completely delicious wines!
After searching the world for the perfect place to grow cool-climate wines, the Thomas family established Greystone Vineyard on the slopes of the Teviotdale hills in the Waipara Valley in 2004.
In 2007 the first wine was produced from there and over the years Greystone has grown amid accolades and acclaim to be recognised as one of New Zealand's best wineries. The owners love the region and with their wines, aim to capture the essence of this site and reflect this in every bottle of Greystone.
Greystone draws its name from the unique limestone conglomerate that we find as the bedrock on which our vine roots grow in. A limestone mix of fossils, sea shells and small pebbles that have been fused together through the seismic movement of North Canterbury. Over time this ancient seabed has been pushed and folded upwards to form the Teviotdale Hills.
Greystone believe true fine wines are temporal, each vintage a fleeting snapshot of a place in time. They don't seek to manipulate the final product with additives or flavourings – instead allow a true interpretation of the soil, vines and season to shine through.
Greystone revel in protecting the land. The many ecological benefits of organic practices include healthy soils, healthy waterways, biodiversity, and a safe place for bees and other beneficial insects. The use of natural products throughout production provides a safe and happy work environment for their dedicated team. "We see our commitment to organic winegrowing as a bigger picture collaboration with our plant towards a more stable climate and sustainable ecosystem."
At Moore Wilson's we sell a range of Greystone wines including their Pétillant Naturel, a non-disgorged natural bubbles that is intensely refreshing with fresh and lively aromatics of pineapple, lemon balm and citrus fruits.  This wine is thought by Greystone to perfectly capture the limestone soils of their hillside block.