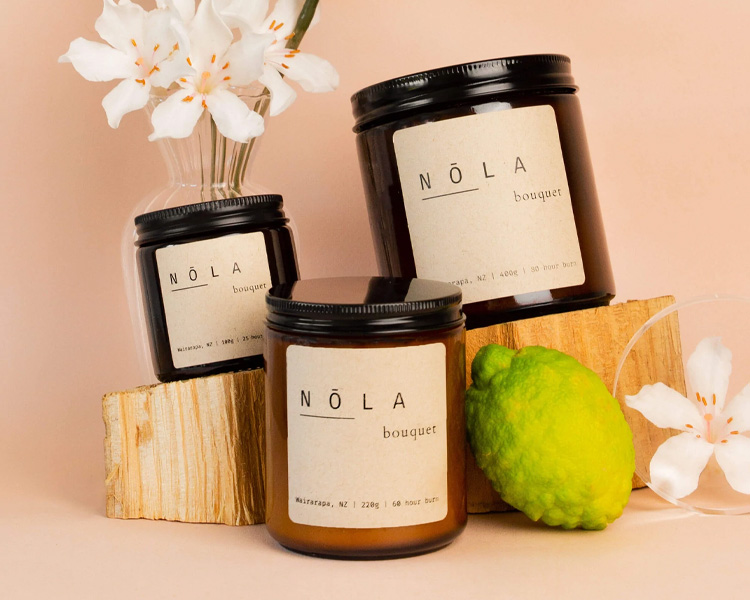 NŌLA Candles are brand of natural , plant-based, soy wax candles made in the Wairarapa. They are a collection of hand-crafted artisan candles; unique enough to intrigue and yet familiar enough to feel like home.
NŌLA was founded by Olivia Trilford during her pregnancy with her twin daughters, Isla & Noah. Olivia launched NŌLA Candles a month before her daughters were born and the brand has grown along beside them.
Due to being pregnant while perfecting the recipes of her candles, Olivia committed to consciously sourcing ingredients that would burn safely and cleanly in peoples homes (and also around young ones).
NŌLA Candles are made with a natural plant based soy wax, free from paraffin, GMO and unnatural additives which not only results in a clean burning candles, but an environmentally friendly choice as well. NŌLA Candles work exclusively with phthalate-free formulated oils & all of their ingredients are vegan and cruelty-free.
Olivia believes lighting a candle is a ritualistic way to end a stressful day and create a relaxing safe space. NŌLA Candles aim to offer this ambience from their small, local and ethical business.
Beyond their low waste initiatives and environmental focus in their workshop, NŌLA Candles make a great effort to offset their carbon emissions. They have chosen to do so because there unavoidable costs of Earth that many businesses refuse to acknowledge. NŌLA Candles offsetting their carbon emissions as a small business encourages the shift towards businesses taking accountability and acting in more sustainable ways.
NŌLA Candles also donate 10% of their profits to The Neonatal Trust, a charity that means a lot to Olivia's young family. Her daughter's were premature; and as challenging as this experience was, their family is forever grateful to the people who helped them through that time.
Check out our wonderful range of NŌLA Candles and diffusers here at Moore Wilson's.