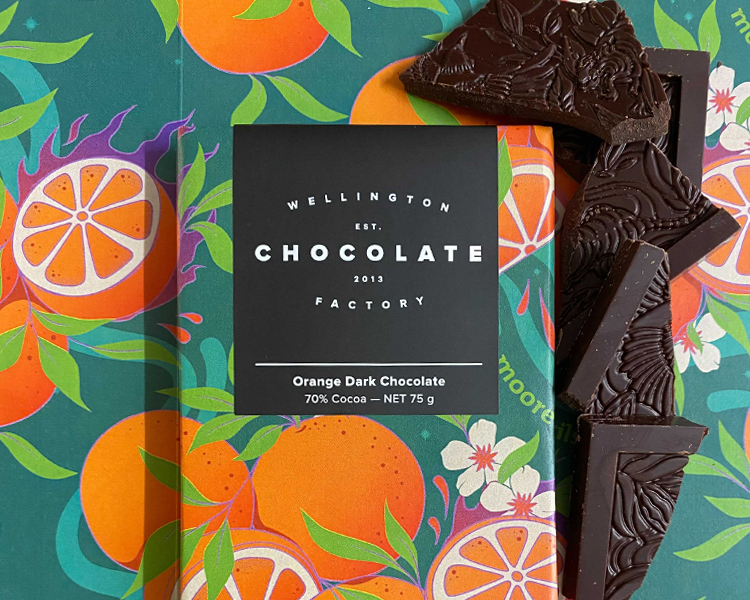 Moore Wilson's and Wellington Chocolate Factory have been working on something exciting this year and we are now pleased to share with you our collaboration chocolate bar: a dark orange chocolate bar made with our very own orange peel!
At Moore Wilson's Fresh, we are known for our iconic 100% freshly squeezed orange juice. Wellington Chocolate Factory teamed up with us to make something just as deliciously tangy with the rind, a byproduct from our juicing process. 
This Orange Dark Chocolate bar is a single-run, limited edition for 2021 so make sure you get your hands on some while you can!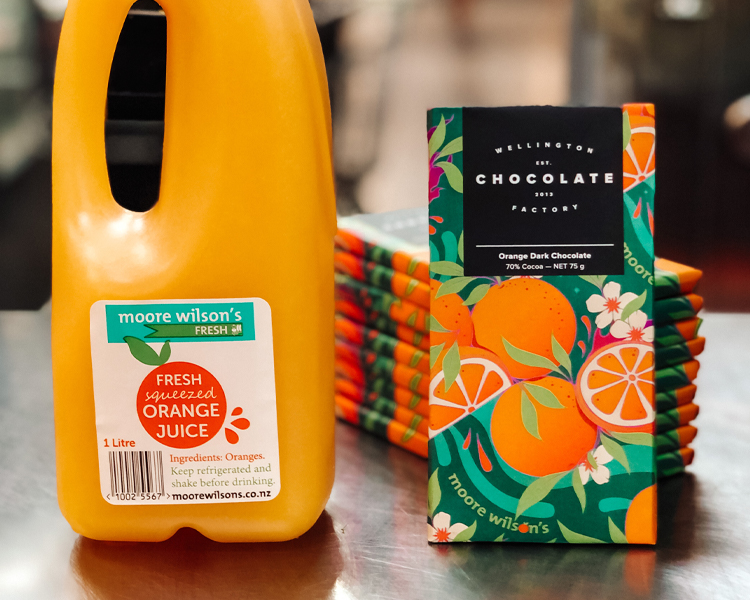 Wellington Chocolate Factory have shared their production process with us, so keep reading to find out how this delicious new chocolate bar was made!
"Firstly we start by walking over to our favourite neighbours Moore Wilsons to pick up the rinds, and try not to get side tracked ourselves by all their deliciousness!
We bring them back to the factory where we boil them to ensure that they are sterilized and soft, ready for the drying process. 
Now they are ready to go into a large oven, where we dry them low and slow for a very long time to ensure the flavours concentrate, and they can be ground down into a powder. We want this chocolate to be smooth, with an integrated zesty flavour. 
For this particular batch we only add Fair Trade Organic nibs from the Dominican Republic and Fair Trade Organic Turbinado Sugar from Paraguay Manduvira Co-operative and grind it with our authentic stone grinders for 3 days. This process releases the natural flavours in the Cacao, and really lets the bean's unique taste come through. 
Once the chocolate is as smooth as liquid in the grinders we put it through our tempering machines, and then wrap in our bespoke designed packaging."
Head into stores now to pick up your very own orange chocolate bar! Or you can purchase online here for delivery!