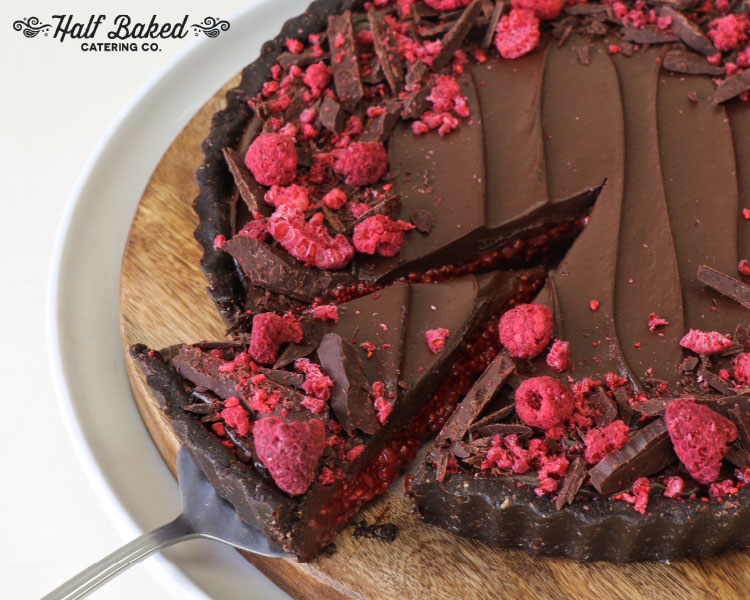 Half Baked's Raspberry & Chocolate Mousse Tart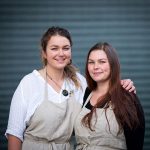 Recipe shared by Zara and Shinee McIntyre for Moore Wilson's 2020 Calendar.
Half Baked Catering Co
Made in Tawa. Sold in Moore Wilson's Fresh and select cafes.
Find them on Facebook
Wellington sisters Zara and Shinee McIntyre have a passion for creating vegan, gluten and refined sugar free sweet treats! Here is one of their favourite recipes.
INGREDIENTS
Raspberry filling
4 cups frozen raspberries
1 Tbsp lemon juice
2 Tbsp pure maple syrup
½ cup chia seeds
Base
½ cup each sunflower seeds, ground
almonds, roast almonds, desiccated coconut and cocoa powder
½ cup warm date paste
1 Tbsp coconut sugar
¼ tsp salt
¼ tsp vanilla extract
¼ cup warm melted coconut oil
Chocolate mousse (all ingredients at room temperature)
1 large avocado
½ cup coconut cream
½ cup cocoa powder
¼ cup pure maple syrup
¼ cup warm melted coconut oil
1 tsp salt
1 tsp vanilla extract
To decorate
Raw chocolate, chopped
Freeze dried raspberries
INSTRUCTIONS
For the raspberry filling, defrost raspberries and combine all ingredients, mix well and leave to sit for an hour, stirring occasionally so the chia seeds soak up the liquid.
To make the base, in a food processor, blend dry ingredients until fine. Remove from food processor and blend wet ingredients until smooth, add dry and blend until thoroughly combined.
Grease a 23cm tart tin and press base firmly and evenly into the tin and around edges.
Freeze for 20 mins and pour in raspberry filling, freeze for an hour or until set.
For the chocolate mousse, combine all ingredients except coconut oil in food processor for 2 mins until smooth, scraping down the sides with a spatula. Add coconut oil slowly while blending and combine for a further 30 seconds.
To assemble, pour mousse over raspberry layer and flatten out with a spatula. Refrigerate for an hour or until set and top with chocolate and freeze dried raspberries. Serves 12.