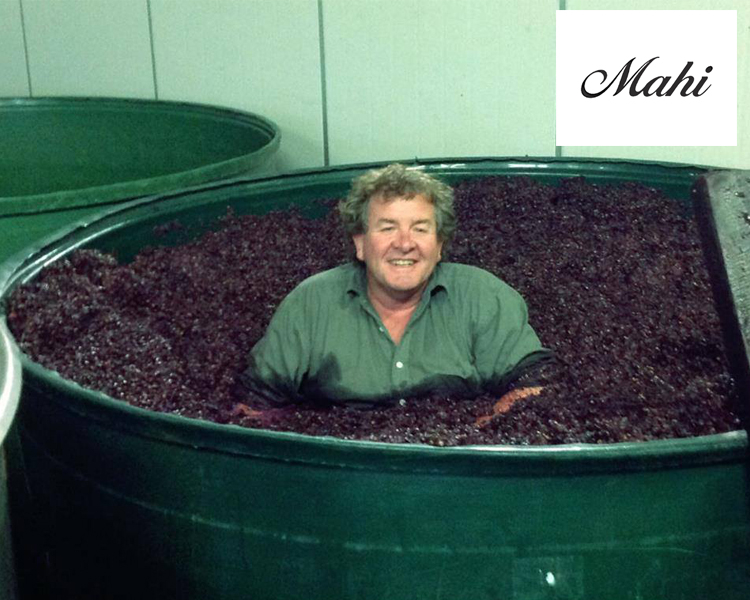 The Mahi winery is nestled into the escarpment that goes down a decent length of the Wairau Valley in Marlborough, with two caves going back into the earth to keep the barrels and winery cool.
Started in 2001 by Brian and Nicola Bicknell after they had made wine in various countries the idea was to show the diversity and depth of Marlborough by combining traditional hands-off winemaking techniques with some special vineyards.
Using a lot of hand-picking, whole cluster pressing, seasoned French barrels and natural yeast ferments the aim is to mess with the wines as little as possible so that the vineyards are the heroes.
An example would be the Mahi Chardonnay in which all the fruit from three vineyards is hand-picked before going over the sorting table at the winery. The whole bunches are then put into the press so that the juice does not sit with the skins and this juice goes straight to barrel with high solids, they do not let the juice settle. It is then left to sit and after about eight days the natural yeast from the vineyard do the ferment, adding depth, complexity and texture to the wine. After 11 months the wine is carefully blended and as it has been handled so gently no protein finings are used, so all of their whites are suitable for vegans. The wines are held for six months in bottle so that they are integrated and ready to drink on release.
The Sauvignon Blanc is complex with a small amount of Semillon, 39% wild yeast, 20% barrel and it rests for nine months on yeast lees, again adding texture and length. Made with love it is totally dry and vegan friendly, a Sauvignon with character.
Very much a family company with Max, Nicola and Brian's son, returning soon after Covid hit from a winery in New York to help in the winery and the markets.