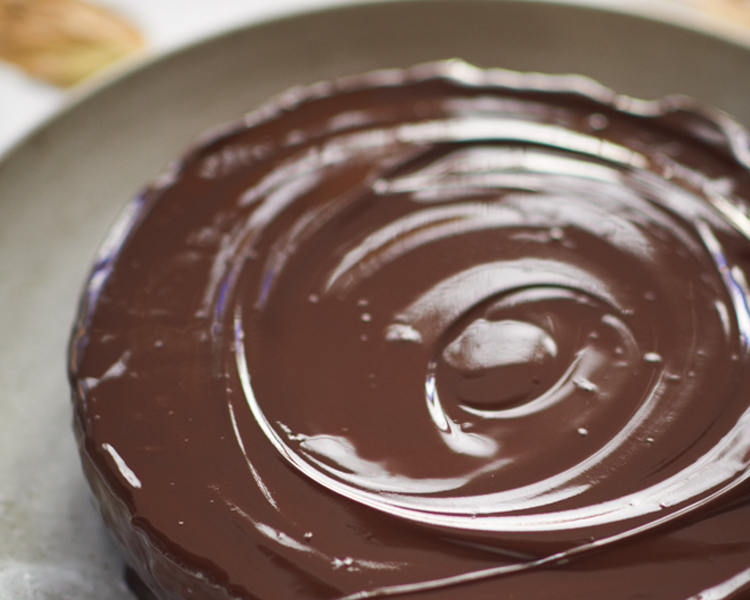 Whittaker's Classic Chocolate Cake

Recipe by Whittaker's New Product Development Manager Megan Howard
INGREDIENTS
170g self raising flour
¼ tsp baking soda
200g brown sugar
180g castor sugar
25g Dutch cocoa powder
3 medium eggs
75ml plain unsweetened yoghurt
200g butter, cut into pieces
200g Whittaker's 72% Dark Ghana Chocolate Pips (or chocolate block, broken)
1 Tbsp instant coffee granules
125ml hot water
icing sugar, to dust
Ganache
100g Whittaker's 50% Dark Chocolate, broken up
110ml thickened cream
1 Tbsp castor sugar
INSTRUCTIONS
Preheat the oven to 160°C (140°C fan bake). Grease a 22cm round cake tin (7.5cm deep) and line the base and sides with baking paper.
Mix together in a big bowl the self-raising flour, baking soda, brown sugar, castor sugar and cocoa powder. Mix to seperate any lumps.
In a seperate bowl, beat the eggs and yoghurt together.
Melt the chocolate and the butter in a bowl over hot water or, alternatively, in the microwave.
Mix the instant coffee with the hot water and add to the melted chocolate and butter.
Pour both the melted chocolate and the egg mixtures into the flour mixture. Stir until you have a smooth, quite runny consistency. Do not overmix.
Pour the cake batter into the tin and bake for 40 minutes or until a skewer pushed into the centre of the cake comes out clean. Leave to cool in the tin for 10 minutes then turn out onto a wire rack to cool completely.
When the cake is cold, either dust with icing sugar and serve with a dollop of whipped cream or yoghurt or, for special occasions, top with ganache.
For the Ganache Place the chocolate in a heat-proof bowl. Heat the thickened cream and sugar in a saucepan until nearly boiling. Take off the heat and pour over the chocolate. Stir until the chocolate has melted and the mixture is smooth. Pour over the top of the cake.