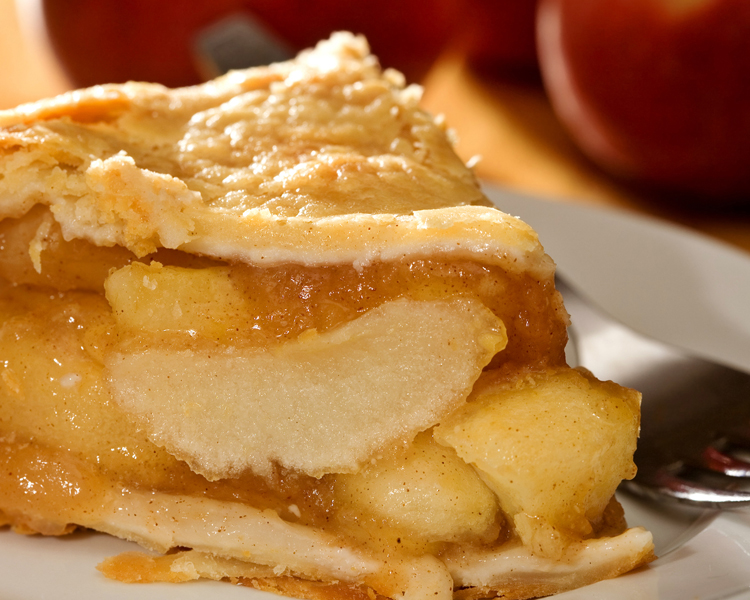 The Yummy Fruit Co. Nana's Apple Pie

INGREDIENTS
Melted butter, to grease
1¼ cups plain flour
1¼ cups self-raising flour
2 Tbsp caster sugar
¼ tsp salt
200g chilled butter, chopped
1 egg, separated
⅓ cup iced water
1.5kg Yummy Granny Smith Apples, peeled and cut into slices
¼ cup caster sugar (extra)
2 Tbsp plain flour (extra)
1 Tbsp fresh lemon juice
1½ tsp ground cinnamon
1 vanilla bean, split lengthways
3 tsp white sugar
Cream or vanilla ice-cream, to serve
INSTRUCTIONS
Grease a round 5cm deep, 20cm pie dish with melted butter.
Place the flours, caster sugar, salt and butter in the bowl of a food processor and process until it resembles fine breadcrumbs. Add egg yolk and water and process until the dough just starts to come together.
Roll out two-thirds of the pastry on a lightly floured surface to a 28cm-diameter disc. Line the prepared pie dish with pastry. Place in the fridge for 30 minutes.
Preheat oven to 200°C. Combine apple, extra caster sugar, extra flour, lemon juice, cinnamon and the seeds from the vanilla bean in a bowl. Lightly whisk egg white in a bowl and brush the base and side of the pastry case. Top with the apple mixture.
Roll out remaining pastry on a lightly floured surface large enough to fit the top of pie. Place over the apple mixture. Press the edges to seal and trim excess. Brush the top with egg white and sprinkle with white sugar. Cut a few slits in the top to allow steam to escape.
Bake for 20 minutes. Reduce temperature to 180°C and bake for a further 30 minutes or until the apple is tender (test with a skewer) Set aside for 10 minutes to cool. Serve with cream or ice-cream.
TIPS
If you're short of time, grab a packet of frozen shortcrust pastry!
Apples are a versatile fruit and work well with both sweet and savoury dishes. Granny Smiths are great for using in pies and crumbles. Ballarat's are only a cooking apple and fluff up beautifully with an intense rich taste. Ballarat apples are perfect for apple sauce.
Find the recipe in the Moore Wilson's Recipe Collection