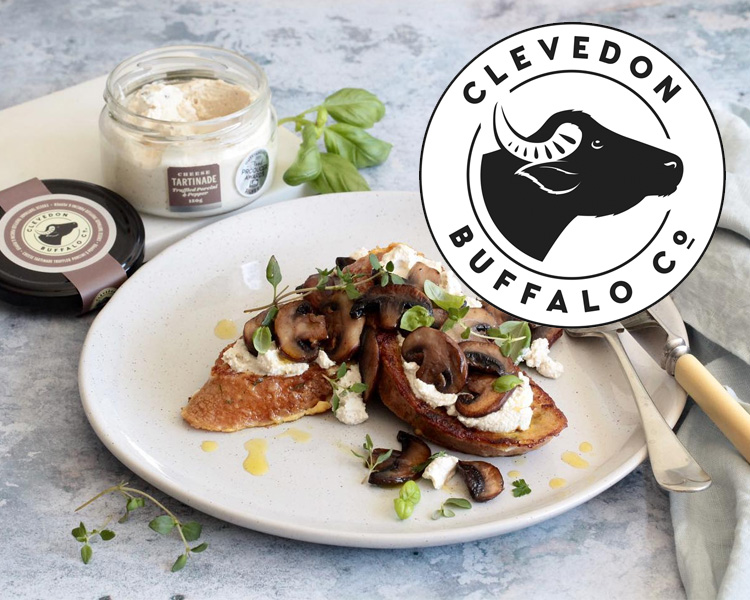 Supplier Profile: Clevedon Buffalo

Clevedon Buffalo
Just south of Auckland on the shores of the Hauraki Gulf is where Richard and Helen Dorresteyn run their family business, owning and operating 200 head of Riverine water buffalo. They produce multiple award-winning fresh buffalo mozzarella, bocconcini, ricotta, yoghurt and marinated buffalo cheese from their fresh buffalo milk.
Clevedon Buffalo started when Richard and Helen decided they needed a cheese producer to sell fresh cheese at their weekly farmers market so in 2007 they started the first New Zealand buffalo farm. They are involved in the whole process from farming to making, testing and tasting each product to ensure their cheese is of high standard.
Buffalo milk has a sweeter, cleaner taste than cows milk. It is A2 and contains significantly more protein and calcium than cow's milk. It has roughly half the cholesterol of cow's milk. Those who are intolerant to other dairy products often find buffalo milk readily digestible.
Here at Moore Wilson's we stock a range of their products, including:
mozzarella and bocconcini
marinated cheese
ricotta
oaxaca (Mexican style string cheese)
tartinade (cheese spreads)
yoghurt
Recipe - Savoury French Toast with Tartinade and Mushrooms
Serves 4
Olive oil
200g brown button mushrooms, sliced
Salt and ground black pepper
4 free-range eggs
¾ cup milk
2 tablespoons shredded fresh basil, plus extra leaves to garnish
2 teaspoons thyme leaves, plus extra to garnish
thickly sliced sourdough bread
Clevedon Buffalo Co. Truffled Porcini & Pepper Tartinade
Heat 3 tablespoons oil in a frying pan set over medium-high heat. Add the mushrooms, season with salt and pepper and stir-fryfor 4-5minutes, until browned. Set aside and keep warm.
Place eggs and milk into a bowl; add herbs, season with salt and pepper and lightly whisk to combine. Working in batches, dip a few slices of bread into the egg mixture to soak for a minute. Heat a little oil in the same frying pan set over medium heat. Pan-fry the eggy bread for 2-3 minutes on each side or until golden brown. Repeat with remaining bread, adding more oil to the pan, as needed.
Spread some Tartinade generously over each slice of French toast, then top with some mushrooms. Garnish with herbs and serve immediately.
Find more recipes using Clevedon Buffalo fresh cheese on their website here.