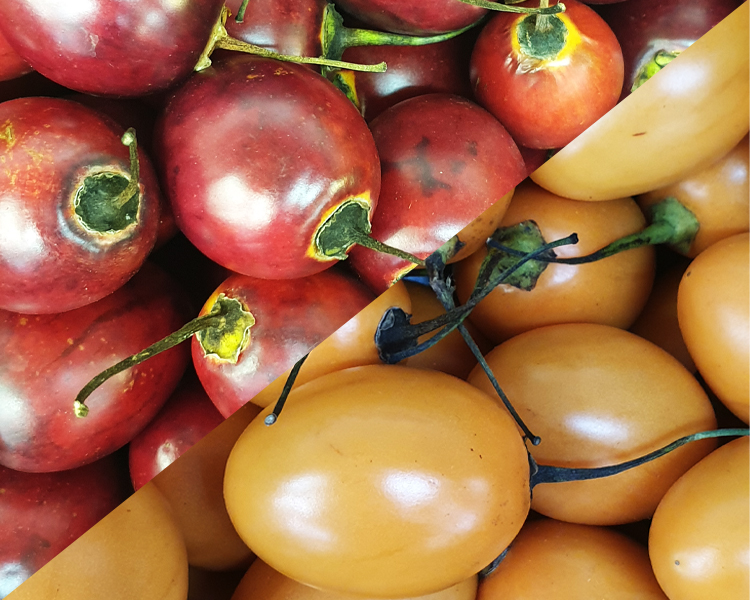 Originally from South America, the tamarillo has thrived in New Zealand and we've almost adopted it as our own, even to the point of renaming it. The peak of availability in New Zealand is in July and August. Tamarillos are a relative of the potato, tomato and eggplant and are still called "tree tomatoes" in some other countries.
In NZ, tamarillos come in three varieties, red (the most common), amber and gold. Red tamarillos are great to eat raw, cooked or for decorating other food for your table - they look striking when sliced or cut in half. The amber and gold varieties are sweeter. Amber tamarillos are great as dessert  toppings, while gold tamarillos make tasty chutneys and pickles.
Tamarillos rate very highly as a source of
vitamins, minerals and  antioxidants when compared with other common fruits and vegetables. They are low in fat, high in potassium and are a source of Vitamin A, B6 and C.
Look for fruit with full colouration. A slight yellowing of the stalk and softness of the fruit are signs of ripeness. Tamarillos will keep in the fridge for about two weeks, or one week in your fruit bowl - they can also be easily frozen. The full exotic flavour of the traditional fruit makes a great drink, snack, main course or dessert.
Uses for Tamarillos:
Use as an ingredient in a stuffing for roast lamb
Combine with apple in a variety of desserts such as crumble
Serve on crackers with a sprinkling of salt
Make a salsa with avocado, chilli and onion
Add to casserole as you would tomatoes
Halve tamarillos, top with garlic butter and grill
Slice raw, peeled tamarillos and decorate flans, cakes, cheesecakes
Pureed tamarillo makes an excellent marinade, adding flavour and tenderising meat
Add to smoothies for a sweet and tangy breakfast or snack
RECIPES
Ginger Pork with Tamarillos and Kumara, courtesy of Lucy Corry
2 tbs olive oil
2 onions, peeled and finely chopped
4 cloves garlic, peeled and sliced
4cm piece of ginger, finely grated
500g diced pork
1/2 cup dry white wine
1 large kumara
1/4 cup water
4 tamarillos
3 handfuls of spinach leaves, roughly chopped
Heat the oven to 150 degrees Celsius. Heat the olive oil in a large, heavy, ovenproof pot. Add the onions, garlic and ginger, along with a pinch of salt, and cook over medium heat for 5-10 minutes, until soft but not browned.
Remove from the pot, add a drizzle more oil and raise the heat. Add the pork and brown on all sides.
Return the onions to the pot, along with the wine. Let it bubble up, then add the kumara and water. Cover tightly and transfer to the oven. Cook for 30 minutes.
While you're waiting, put the tamarillos in a heatproof bowl and cover with boiling water. Let stand for two minutes, then drain and peel off the skins. Slice thickly.
When the pork has cooked for 30 minutes, add the tamarillos and spinach. Stir well and return to the oven for another 15-20 minutes. Serve with rice.
Tamarillo Dressing, courtesy of Nadia Lim
The tamarillos give that fruity tartness, like lemon, that all good dressings need. This dressing goes well with lots of different salads.
2 tamarillos, peeled and flesh diced
1/2 tsp Dijon or wholegrain mustard
1 1/2 tsp runny honey
1 1/2tbs extra-virgin olive oil
Place all ingredients into a small jar, screw on the lid and shake well to mix all ingredients together.